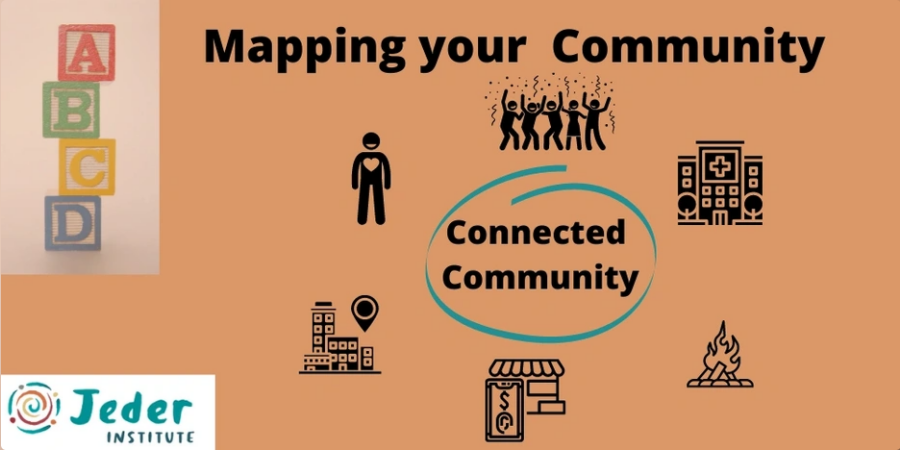 Mapping your Community
Event description
Jeder Institute is excited to offer our Mapping your Community workshop. This workshop will focus on the six assets of ABCD. We will share asset mapping tools to identify, connect and activate their community assets to create opportunities.
"The  appeal  of  ABCD  lies  in  its premise  that  communities  can  drive  the  development  process  themselves  by  identifying  and mobilizing  existing,  but  often  unrecognized  assets,  and  thereby  responding  to  and  creating local  economic  opportunity." Dan Duncan  
This training is interactive and participatory, where you get to use the tools and resources which you are learning about. These tools and resources can be used directly with the communities who you work with.

Asset Mapping is an effective way to map the skills, talents, abilities, and passions of individuals, and to discover the strengths, networks, and resources of communities and organisations. This workshop will cover:
The WHY, The HOW, The CONNECTION and The OUTCOMES of Asset Mapping
Key Steps to Asset Mapping
Tools share with others to identify, connect and activate your community assets
This training is endorsed by ABCD Asia Pacific

"Please contact us if cost is a barrier to your participation"
Your Facilitators:
Michelle Dunscombe lives on Taungurung Country in regional Victoria. She is an enthusiastic community development practitioner, facilitator and trainer who love's working with emergence. She is skilled and passionate about strengthening regional, rural and remote communities, developing community leadership capacity, building community resilience and supporting community members to take action.

Beth Stockton is passionate about social justice, community led change and enabling collaborations from talk to action. As a specialist in impact measurement, she works with organisations and community initiatives to measure and use data to embed a culture of curiosity, learning and improvement across their work. To ensure outstanding results for communities, Beth dedicates energy and time to understand the communities she supports.