Hosting Space in Community Building
It has been said that facilitation is an art. There's a poignant quote, which states; if you think it's expensive to hire a professional, wait until you hire an amateur!
Hosting conversations that matter and creating intentional, purposeful dialogue can be daunting! As community facilitators, we are embarking on a journey of multiple ideas, opinions and attitudes that can potentially swing from interactive, participant-led beauty to frustrated, daunting chaos!
And, I like that!
Many years ago, when I was working in hospitality, paying my way through study, I was working at a family-run hotel and entertainment venue in the Hunter Valley vineyards of NSW, Australia who hosted an annual "Christmas in July" event where busloads of tourists would turn up for the weekend, expect a grand time and leave with personal stories of good wine, roaring fireside discussions and great company.
Quite often, there would be someone who seemed determined to NOT have a good time; the wine wasn't what they expected, the fire was too hot, the dessert too cold; you know the story… a glass half-empty type of person…
And, I liked them, too!
Inevitably, one of the waitresses would come into the kitchen, often in tears, saying they just couldn't take the angriness (or abuse) any more and every time, my boss would look at me, almost pleadingly, and I would say, "I've got this!" and I'd be off, out the door to the restaurant!
Why? Because I knew the fun was out there, the people were good and sometimes, all this person needed was help to see life through a new lens and to discover that they could be a glass half-full type of person, even if only for one night! I was determined that they would leave saying that they had a good time and I was often thanked, on the side, by their partners or friends, for their turn-around in attitude; it was a great learning ground!
One thing that has always helped me do this is to see the bigger picture by having an eagle-eye view and checking where the dynamics and the flow of the group started, observing where they shifted to and pay attention to where they are heading.
And, it always startswith a conversation and buildinga relationship!
Over the years, I have built on those lessons when working in communities by being aware of which underpinning framework, (which aredocumented here), would be most relevant to any given situation. Sometimes, I do this transparently and offer a range of frameworks to choose from. For example, I recently facilitated a workshop for Emergency Management Victoria (EMV) where the participants were all community facilitators who had a good understanding of the process so I offered three (3) underpinning frameworks to choose from.
Learning Conversations:
Theory U:
DEC Thinking:
CONCERNS – what I don't want to happen?

DREAMS – what's my preferred future vision?

SKILLS & ABILITIES –What skills and abilities do we have to share?

DOWNLOAD – what I think I already know?

REFLECT – letting new ideas emerge

SENSE-MAKING – proto-typing new ways forward

EXPLORE – a free flow generation of ideas

DISCOVER – discovering possibilities

DECISION-MAKING – prioritising and making decisions
During the explanation of the frameworks, the participants had open discussions about the challenges, issues, successes and needed resources so, following these open discussions, and based on my suggestion, it was decided to go with a blend of the 3, as shown below:
The blended, participant-driven agenda:

1.    Concerns – what I don't want to happen?

2.    Dreams – what is my preferred future vision?

3.    Discover – what possibilities are emerging?

4.    Skills and abilities – what do we have to share?

5.    Decision-making – prioritising and making recommendations

6.    Rear-view – summary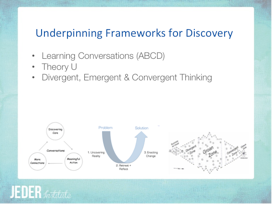 Other times, I hold a framework lightly, in the forefront of my mind, as we journey through an open discussion, together. For example, I facilitated a community-led, economic forum in Sydney where the organisers contacted me before the gathering and warned me about 2 particularly 'grumpy locals' who would be attending and suggested that I not let them talk, at all!
In response, I invited the organisersto; trust the process, try to shift their thinking of the grumblings from something negative to seeing the positivity of the local's passion and I held the divergent/emergent/convergent thinking framework lightly as we proceeded throughout the day. The 2 community members in question made themselves known very early on in the day and I held the space open and available for all types of discussions to emerge and waited for the "groan zone", which arrived during Open Space sessions.
Aside: for those of you who know Open Space, you will know that was the perfect place for their passion to emerge and when not one of the 150 people present joined their group, they had a very constructive, reflective conversation about how to engage others better around the topic they were so very passionate about! Magic!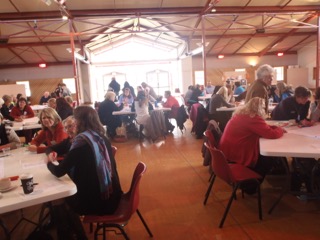 In community building, we can utilise these patterns and practices to sense the energy and flow of the community members and/or participants and hostthe space for others to feel confident enough to step up and engage deeply. While it does take skill, it's not insurmountable when you approach each community conversation openly and flexibly.  By remembering that silence is part of the conversation and loud (angry) voices translates to passion, we can successfully host others by firstly hosting ourselves and being prepared to allow anything to happen, no matter how daunting!