Written by Dee Brooks
It started with a lone voice in Goa, India.
In January 2017, Bernie Dolley from Ikhala Trust, stood up, in front of everyone, at the end of the ABCD Festival in Goa and announced her intention to host the next ABCD global gathering in South Africa.
Bernie went back home and started to invite people in to the planning process; local partners, national supporters, international assistance. They had already had a couple of meetings when I was invited in to support the development of the programme, as I had done for the previous gatherings. We met over many months through various sub-committees, we drew on the foundational principles of ABCD and started to organise what was needed, by drawing on our strengths, assets and previous experience.
Over these organising months, the content sub-committee I was part of:
Co-created a participatory format; originally based on Theory U but which became Appreciative Inquiry focused
Called for creative submissions, specifying there would be NO PowerPoint options
Invited Harvesters into the process early, to ensure the essence of the Imbizo was captured along the way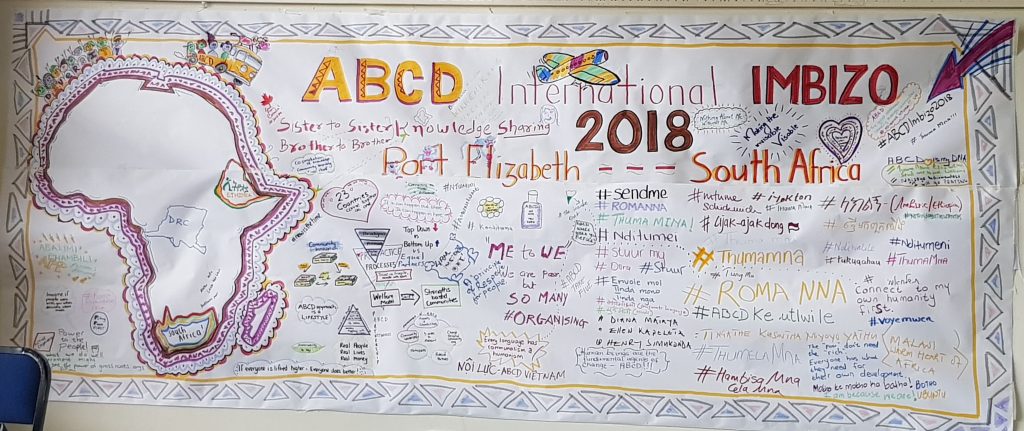 The Imbizo came into being through months of intentional effort, passion and commitment of a range of people, from various countries, across different time zones and in February 2018, the ABCD Imbizo was brought to magical, colourful, connected, enthusiastic life with participants from 23 countries converging on Port Elizabeth to discuss the theme, "Deepening our understanding of ABCD by exploring what unites us".