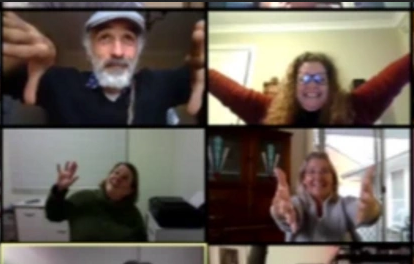 ONLINE – The Art of Hosting : Conversations that Matter – A Unique 2 day Online Intensive
How is COVID revealing what is essential to me right now?
The Art of Hosting Conversations that Matter A Unique 2 day Online Intensive
To live my best life, maintain connection, stay in dialogue to learn together & create future alternatives
This 2 day Art of Hosting Intensive will provide an experience for deepening
competency and confidence in hosting online group processes.
You will learn how to construct powerful questions, host conversations with those questions, and harvest outcomes with teams, organisations, partners and community.
Patterns and practices will include: 
Four Fold Practice • Circle Practice • Appreciative Inquiry • Chaordic Path • DEC Thinking • World Café • Open Space Technology • Circle Practice • Next Stage Organising & Living Systems.
*** You will learn from highly skilled AoH global stewards, practitioners and trainers who work throughout the world ***
Online Participation Fees:
An important learning we have been working with is how to appreciate and honour the diversity of economic factors that would encourage people to join us in participatory leadership work.
You get to decide what you consider to be a fair price, or within your training budget, and then we request that you offer a little more which could support others to attend.
Help us walk our talk to assist as many willing people as possible to attend! If this is still beyond your capacity, talk to us!
$165.00 per person – Community members / Volunteers
$440.00 per person – Not for profit
$705.00 per person – Corporate and Government organisations
All costs are inclusive of GST
Please reach out if finances or interpretation requirements are an issue; if you are passionate about being there, we want you there!
Who is it for?
Anyone who wants to explore the power of collective creativity and collaboration with each other and within their communities:
Business leaders, social entrepreneurs, community and not for profit leaders, community organisers and their teams
Next generation leaders and other young activists
Department leaders, policy officers and program managers
NDIS directors, team leaders, planners
We look forward to welcoming you, your questions & projects and your contributions.
Your Hosting Team:
Michelle lives on Taungurung country in regional Victoria. She is an enthusiastic community development practitioner, facilitator and trainer who love's working with emergence.
Dee brings people together in dynamic ways to realise and engage the full potential of their networks and communities. Over 20 years, her work has inspired people at hundreds of events and workshops worldwide.
 Jason has worked as a case manager/caseworker, project officer, and manager throughout Western NSW since 1998, including in the non government and government community service sectors.
Bernadette jumped on board straight away when the NDIA commenced trialing in Newcastle 2014/15,as a Coordinator of Supports. Outside of her role as a COS, she enjoys time with family and friends.
Margaret is based in Sydney with a wealth of knowledge and experience in the disability sector She is passionate about inclusion and people living their best life.
Accessibility Information
Refunds are available 1 day prior to the event.