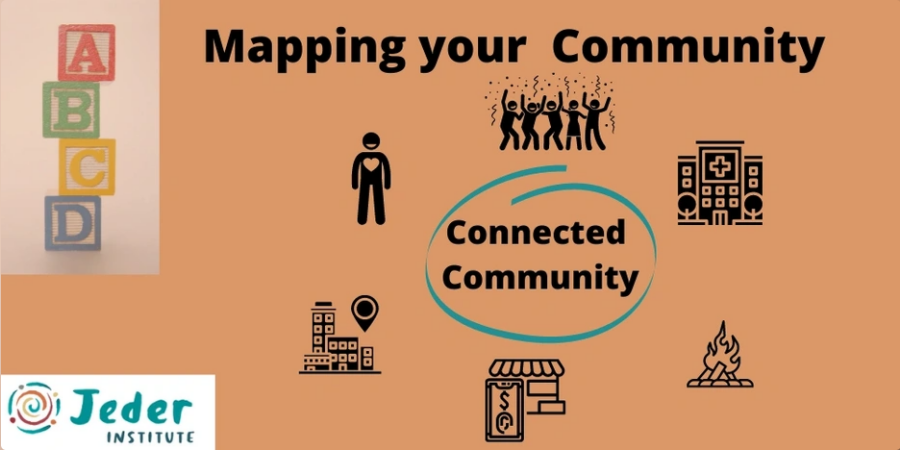 Mapping your Community – Sept 2022
Event description
Jeder Institute is excited to offer our Mapping your Community workshop. This workshop will focus on the six assets of ABCD. We will share asset mapping tools to identify, connect and activate their community assets to create opportunities.
"The  appeal  of  ABCD  lies  in  its premise  that  communities  can  drive  the  development  process  themselves  by  identifying  and mobilizing  existing,  but  often  unrecognized  assets,  and  thereby  responding  to  and  creating local  economic  opportunity." Dan Duncan  
This training is interactive and participatory, where you get to use the tools and resources which you are learning about. These tools and resources can be used directly with the communities who you work with.

Asset Mapping is an effective way to map the skills, talents, abilities, and passions of individuals, and to discover the strengths, networks, and resources of communities and organisations. This workshop will cover:
The WHY, The HOW, The CONNECTION and The OUTCOMES of Asset Mapping
Key Steps to Asset Mapping
Tools share with others to identify, connect and activate your community assets
This training is endorsed by ABCD Asia Pacific

"Please contact us if cost is a barrier to your participation"
Your Facilitators:
Fiona Miller is a creative conduit and passionate about seeing people and communities explore and collaborate on all things local, getting people to the same table and sharing skills and knowledge. The ABCD principles and practices underpin all of her work and continue to be educated while educating. Conversations matter and by connecting conversations, amazing things can happen.
Steph Bitter is an enthusiastic young woman, passionate about human rights and empowering individuals to express themselves. She is an advocate for social justice issues and enjoys helping people learn more about themselves, discovering what options they might have for a better future.