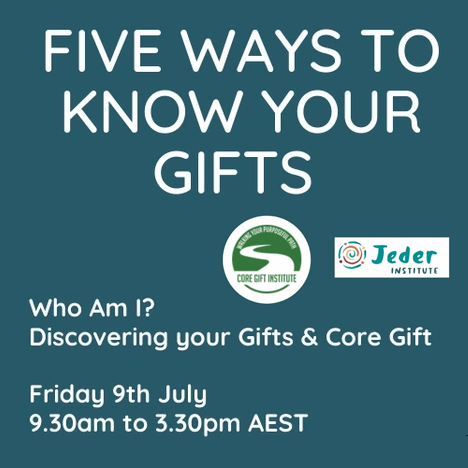 ONLINE – Five Ways to Know Your Gifts
This one-day workshop is designed to provide a deeper foundational understanding of gifts, and give participants the opportunity to identify their own gifts using five different gift-discovery tools.
Our gifts are one of our most valued assets and when they are acknowledged we feel valued and respected. Gifts are connected to our deepest sense of purpose and when we give our gifts, we feel an alignment between our personal vision and the vision of our world!
Using gift-identification tools and practices creates the opportunity for individuals, communities and organisations to thrive as they become aligned and committed to purpose.
During this workshop you will:
Learn why gifts are essential for healthy individuals and communities.
Understand the four ways that gifts provide hope and healing.
Learn about the connection between gifts and life difficulties.
Practice five different gift discovery methods.
End this session identifying your seven most powerful gifts.