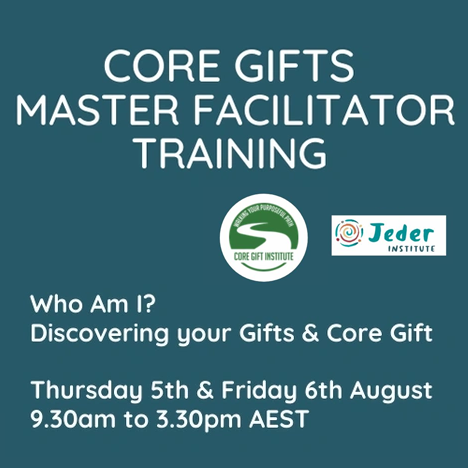 ONLINE – Core Gifts Master Facilitator Training
This two-day training and follow-up activities are designed to provide Master Facilitator Certification in the Core Gift Discovery© process.
Four Benefits of Core Gifts
HOPE: "I am more than my current situation."
IDENTITY AND POWER: "My gifts keep me grounded in who I am and identify my most powerful interests and abilities."
BELONGING: "Giving my gifts helps me know where I can belong in community."
HEALING: "Some of my gifts help me heal from difficulties I have faced in my life."
The result is often surprising to the person and can have a powerful impact on understanding past behaviour, current difficulties, and point a clear path to future positive action and opportunity in all parts of life. It can be used to guide career choices, education, job satisfaction, and be used to analyse work behaviours.
This training offers a next-generation tool that takes strengths to an even deeper and more productive level!
Did you know?
A Core Gift is never a job. It's the part of the job we are most passionate about.
Your Core Gift is the same your entire life and how you give it changes frequently.
You give your Core Gift in all parts of your life, often without knowing it.
Compatible with research in positive psychology, purpose-driven behaviour and motivation in individuals and organizations benefit from the Core Gift Discovery© tool which utilises a unique facilitated process. This result in a person developing an action statement which details their primary life purpose (Core Gift) and their 3-5 other gifts that most contribute to that purpose.
Different than a strengths inventory, this unique profile doesn't compare you with others, and doesn't use general descriptors of your traits in predetermined areas.
WHO SHOULD ATTEND?
This workshop and its implementation strategies are useful for:
Leadership development
Therapists and counsellors
Youth and aged care teams
Mental health recovery teams
Business and life coaches
Organisational and culture change initiatives
Community development/organising initiatives