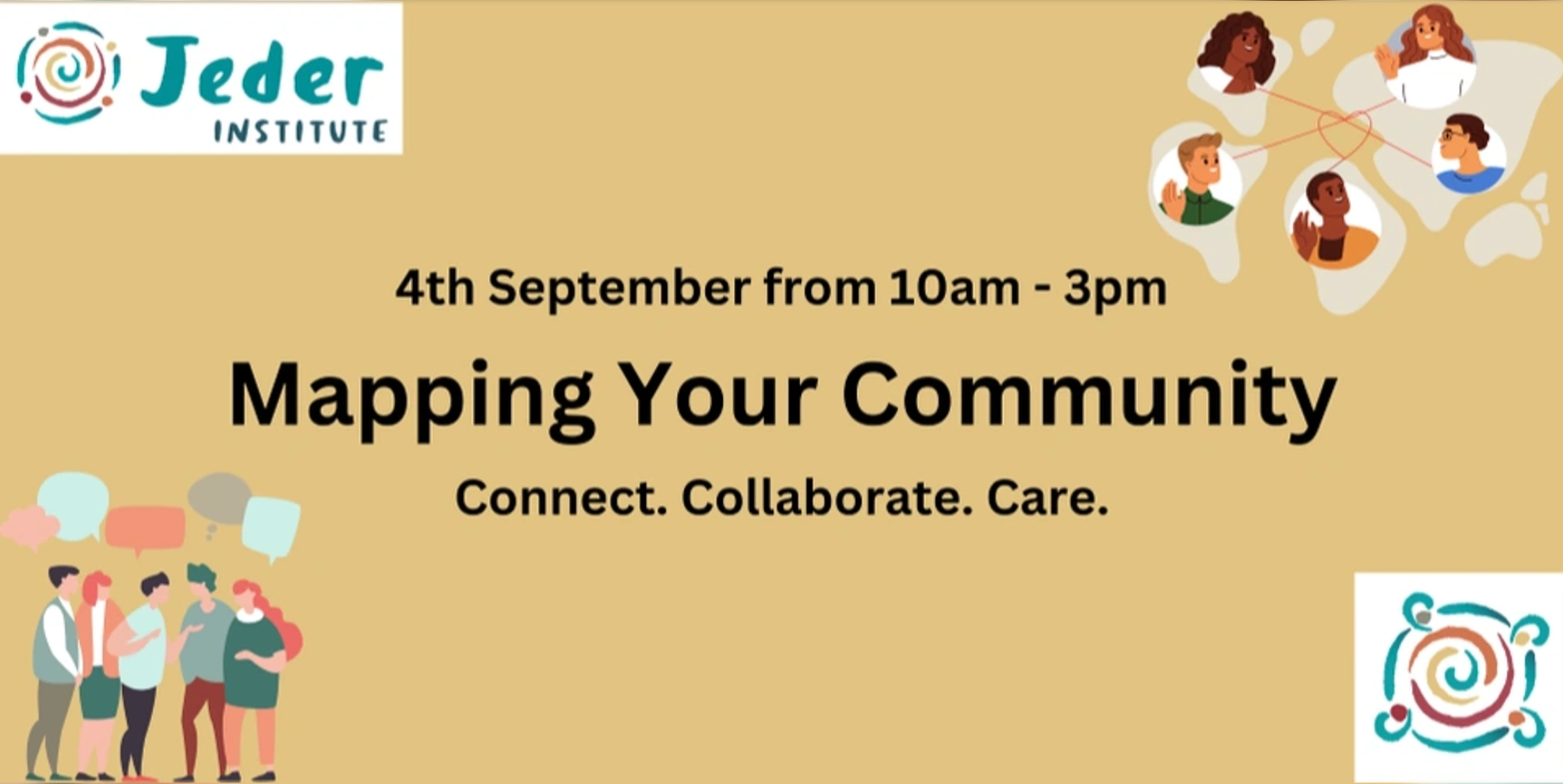 Mapping Your Community – September
This workshop will run for 5 hours on the 4th of September, from 10am to 3pm. A great opportunity for anyone who wants to explore participatory processes and practices for identifying and mobilising strengths and assets in their communities:
Business leaders and social entrepreneurs
Community members and not for profit leaders
Community organisers and their teams
Next generation leaders and other young activists
Department leaders, policy officers and program managers
NDIS directors, team leaders, planners
Jeder Institute is excited to offer our Mapping your Community workshop. This workshop will focus on the six assets of ABCD. We will share asset mapping tools to identify, connect and activate their community assets to create opportunities.
"The  appeal  of  ABCD  lies  in  its premise  that  communities  can  drive  the  development  process  themselves  by  identifying  and mobilizing  existing,  but  often  unrecognized  assets,  and  thereby  responding  to  and  creating local  economic  opportunity." Dan Duncan
This training is interactive and participatory, where you get to use the tools and resources which you are learning about. These tools and resources can be used directly with the communities who you work with.
Asset Mapping is an effective way to map the skills, talents, abilities, and passions of individuals, and to discover the strengths, networks, and resources of communities and organisations. This workshop will cover:
The WHY, The HOW, The CONNECTION and The OUTCOMES of Asset Mapping
Key Steps to Asset Mapping
Tools share with others to identify, connect and activate your community assets
The Jeder Institute operates across Australia and throughout the world to create positive change for individuals and communities. We bring people together to realise their full potential, increase collective knowledge, explore insights and engage community members in conversations that matter to empower individual's choice and control by:
Facilitating community conversations around critical social issues
Building individual and community resilience
Coordination of supports and capacity building (NDIS)
Engaging and connecting with a diverse range of communities
Co-developing organisational change management frameworks
Identifying and mobilising individual and community assets and strengths
The Jeder Institute is a not-for-profit, Next Stage Organisation (NSO), based in Australia. We are a human-centred organisation committed to addressing local, national and international challenges and issues and commit to challenging the systems and structures which impede people's ability to live a good life.
The Jeder Institute focuses on community capacity building by identifying and building on existing strengths to create and live an ordinary life and to further create inclusive communities through collective action. The Jeder Institute provides strengths-focused workshops, training and facilitation to individuals, communities and organisations through both contemporary and well-known practices.
Accessibility Information
Please reach out if you have a refund request.