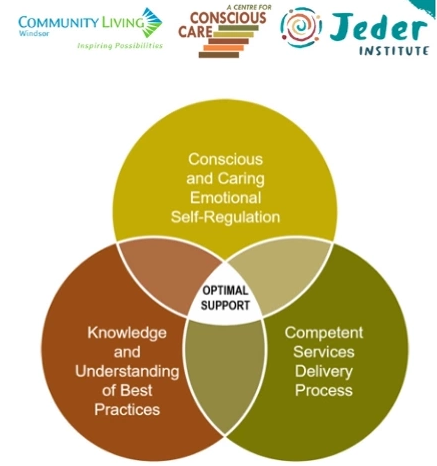 Conscious Care & Support (CCS) – TrainingBrunch & Learn – Positive Holistic Behaviour Support
To optimally meet the holistic support needs of individuals with autism and other developmental disabilities, and / or a mood / mental health disorder, core competencies, traditional support practices, behavioural management strategies and accountability systems are ESSENTIAL, BUT ARE JUST NOT ENOUGH – EQUALLY ESSENTIAL IS THAT SUPPORTERS AND LEADERS MUST HAVE:
Mindful presence
Personal & professional emotional maturity e.g. emotional self-regulation skills
An uncompromising commitment to wanting to help others
Authentic compassion for all others even when we don't feel like it
The most current evidence-based prevention and management interventions* necessary to compliment valuable however incomplete strategies
*CCS applies simple and practical research discoveries from the disciplines of mindfulness, neuroplasticity, social neurobiology, emotional freedom therapy, nutrition, GI health and biofeedback and integrates these sciences with what is relevant of conventional behavioural treatment and management.
WHO IS THIS FOR?
Families and carers, support professionals, leaders, therapists, and anyone with an interest in making a difference within the lives of others.
WHAT IS THE FOCUS:
Each session will unpack a section of the Conscious Care and Support best practices framework providing education along with practical examples and ideas for implementation.
Session 1 – 20.04.2021
Awareness Based Calming and De-escalation Skills offered by a Mindful Supporter
What is Anxiety? – Traditional Approaches to De-Escalation – Building Mindful Emotional Self-Regulation- CCS Approaches
Session 2 – 27.04.2021
Gastrointestinal (GI) and Bowel Health
GI, Bowel & Digestive Health is the Foundation for a Healthy Mind – Allergens, Intolerances, Infections – Effects of Sugar – CCS Approaches
Session 3 – 04.05.2021
Emotional and Mental Health
High percentage of traumatization of people we support, Medications – Psychotropics and Mood Stabilizers – Our Roles as an Advocate – Gut/Brain Connection – CCS Approach
Session 4 – 11.05.2021
Brain Development and Coherence – Sensory Integration and Processing 
Neurogenesis, Neuroplasticity, Neurostimulation and Neurochemical Production – Brain Coherence – Gut / Brain Connection and Inflammation, Hyper and Hypo Active Sense Stores – CCS Approach
Session 5 – 18.05.2021
The "5-C's" of Support: Catch, Calm, Clarify, Choose, Connect 
Exploring "the human predicament" in which we all live that drives us to our less than optimal selves when providing support – unplugging the power struggles – building skills of self-awareness as a supporter – building emotional self-regulation – CCS Approach
When:
5 Sessions (online) – 90min each
20th April – 18th May 2021 – 9.30am-11am
Where:
Zoom – link will be sent on registration
Cost:
$50 per session – NDIS Claims available  (Downloads and all materials included)
Director Jeder Institute

Michaela is a skilled practitioner, trainer, coach and mentor of Person Centred Approaches including Thinking frameworks, Maps, Paths, Lifestyle Planning and independent planning. Michaela facilitates Art of Hosting – Participatory Leadership training, Team building and Network building opportunities. She has worked in the disability sector in NSW (Australia) for over 20 years and has presented at numerous State and National Conferences.
Refunds are available 7 days prior to the event.