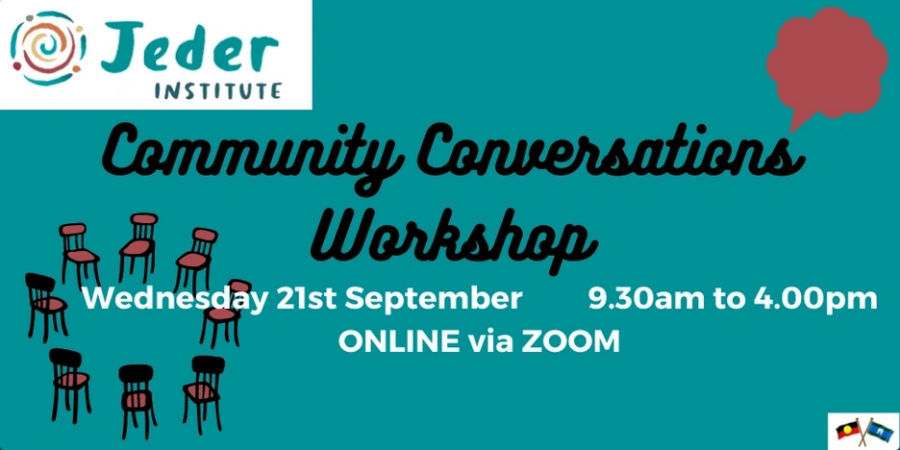 Community Conversations Workshop – September 2022
Event description
Community Conversations is a proven method to engage people from all walks of life to encourage active participation in broad community conversations.
"Very great change starts from very small conversations, held among people who care." Margaret Wheatley
Join us for this one day workshop where we will share a range of ABCD and other strength based methods to host meaningful community conversations to move from problems to possibilities. We will share stories, tips and tricks to create safe spaces that encourage community participations.
The workshop will cover:
• Skill building in hosting and facilitating a range group processes
• Practice in forming "powerful" questions
• Increasing diverse community participation
• Importance of co-designing an interactive community conversation
• Intentionally shifting talk into action
Your Facilitators
Dee Brooks Through her down-to-earth style, Dee brings people together in dynamic ways to realise and engage the full potential of their networks and communities. Over 20 years, her work has inspired people at hundreds of events and workshops worldwide where she offers community engagement and development training and also provides professional co-design, facilitation and keynote addresses for conferences, forums and events. Dee is an Intentional Nomad who has traveled and worked in over 20 countries. Based on two decades of grassroots work, Dee's background is in youth work, community-based research and community-university outreach and she is a firm believer in the power of tapping into the collective wisdom of a community to strengthen and build on what's already there.
Steph Bitter is an enthusiastic young woman, passionate about human rights and empowering individuals to express themselves. She is an advocate for social justice issues and enjoys helping people learn more about themselves, discovering what options they might have for a better future.