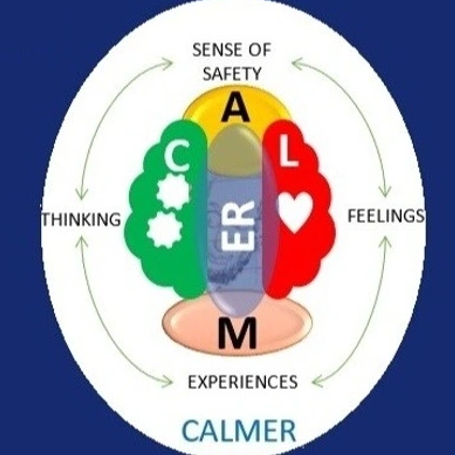 The CALMER Approach: Sharing how to co-design therapeutic environments and supports by harnessing the relationship between emotional
How can we incorporate neuroscience and positive behaviour support in a practical and accessible way?
Join us for 4 practical and interactive 3 hour sessions that will introduce you to The CALMER Approach and how you can integrate therapeutic services to improve quality of life and narrow the gap between theory and practice. CALMER uses an inclusive, evidenced based practice to understanding the meaning of the behaviour from the person's perspective, including the person and their stakeholders in the process to create shared meaning. 
What is CALMER?
A Neurobehavioural Approach explaining the relationship between the emotional regulation and interactions (behaviours) in a practical and accessible style. It is positive, person-centered and affirming. The approach is an engaging and evolving process of learning, understanding and formulating how to provide proactive strategies to maintain good quality of life.
CALMER utilises knowledge translation to synthesize neuroscience and behavioural approaches into practical and accessible supports. It draws on polyvagal theory, collaborative problem solving, positive behaviour support, person-centered approach and trauma informed practices to understand the person, in the context of their own environment.
Activation of different structures in the brain influences human emotional regulation and behaviour. Understanding these relational principles, the CALMER Approach has specific interest in the influences of: Cortex (thinking brain), Amygdala (assessing danger), Limbic (emotional brain), Memory (emotions and experiences) and Emotional Regulation (the ability to cope with stress), or CALMER.
CALMER uses principles of co-design to assess, plan and implement capacity building skills beyond the replacement of the "function of the behaviour" towards capable environments and co-regulation. Reactive strategies via co-regulation support strategies enable the person to regain emotional regulation therefore reducing the impact of the episode of unsafe interactions.
Course Date and Structure:
06/03/2023 Session 1: Background, Literature and Knowledge Translation… Where did CALMER come from and why?
13/03/2023 Session 2: Stage 1: Finding Shared Meaning (a new perspective for understanding what is happening);
20/03/2023 Session 3: Stage 2: Co-Design and Co-planning (how to engage with others to make a practical and accessible plan);
27/03/2023 Session 4: Stage 3: Plan Activation (putting it into practice); and Stage 4: Shared Learning (ensuring we are getting it right/outcomes/impact/evaluation/growth)
By attending this training series, you will be able to integrate and maximise:
Your ability to integrate theory into practice by understanding how neuroscience can enhance positive behaviour support;
Your capacity to enhance choice and control in positive behaviour support through the use of co-design;
Your skill in providing opportunities for engagement and participation;
Your skill in identifying how emotional regulation impacts on behaviour;
Hands on experience in utilising new assessment tools and support plan formulation;
Ideas for supporting key stakeholders, including them in the co-design process and providing for a capable environment;
Your ability to provide more support 'with' instead of providing more support 'for';
12 hours CPD.
Who should attend?
This course is designed to introduce practitioners and allied health providers to principles they can practically apply in their work. Educational providers and teachers may also find this course applicable.
Your Facilitators: 
Francisco de Paula is passionate about supporting all to reach their potential. The CALMER Approach developed out of his passion to close the gap between theory and practice while looking for ways to make more meaningful impact in positive behaviour support.
Francisco has been working in the disability sector for over 20 years, starting as a support worker in accommodation, day program, recreation program and employment settings. Since 2011, he has been working as Behaviour Support Practitioner and an Education and Training facilitator (in both TAFE and private courses). He is certified Person Centered Active Support facilitator since 2016 (through Greystanes Disability Services, NSW). Person-centred practice, PBS, neuroscience and trauma-informed practice strongly influence his practice and training.
Amy de Paula is an Occupational Therapist who has been working in community disability settings for over twenty years. With a passion for meaningful engagement and co-design, she loves anything that leads to people having autonomy and participation in their lives.
Testimonial:
"Francisco has provided a great capacity building approach for these families, provided them with education around why certain behaviours may be occurring, as well as guiding them to implement strategies and identify what has worked/not worked along the way. He has done this in a very sensitive, non-judgmental and professional way which parents have responded well too. They have taken onboard his ideas and identified that they have been effective and seen positive changes in their children. Through working with Francisco, I have also learnt a lot and he has built my capacity in several ways regarding behaviour support." – Nicola Latsinos (OT) – Everyday Independence
Notes:
We aim to make our sessions financially available to everyone, so please contact us if money is a barrier. Custom sessions can be tailored for groups, please contact:
francisco@jeder.com.au.
We are looking at producing a series for family members, carers and other stakeholders – please contact us for further information: francisco@jeder.com.au.
Accessibility Information
Refunds are available 7 days prior to the event.