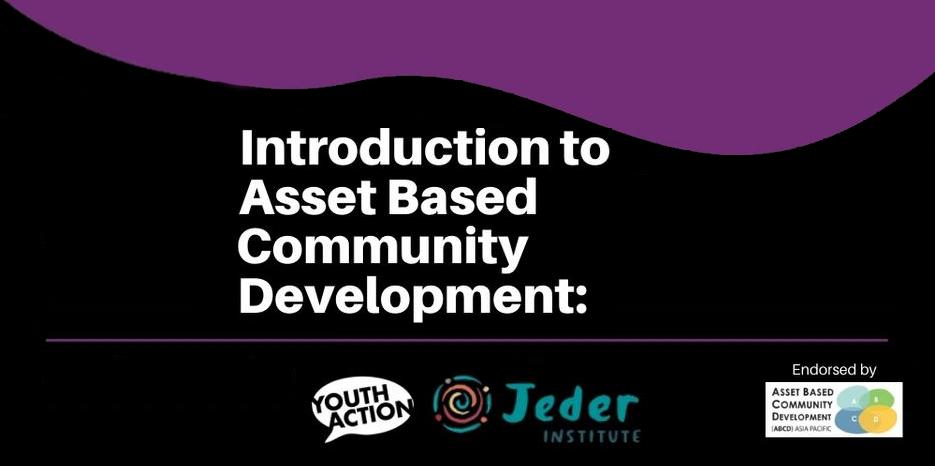 ONLINE – Introduction to Asset Based Community Development with the Jeder Institute
Youth Action is excited to be partnering with the Jeder Institute for an Introduction to Asset Based Community Development workshop. This workshop will be focusing on how to utilise ABCD skills while working with young people.
This training is suitable if you work in most youth work settings. Some examples of practice are:
a youth-led group (e.g. a Youth Advisory Council, leadership group, youth advocates)
a drop-in space
creating programs to support youth-led community initiatives
individual one on one support to connect young people to community settings
This training is interactive and participatory, where you get to use the tools and resources which you are learning about. These tools and resources can be used directly with the communities who you work with.
Connecting young people to community and seeing them as a part of a community is vital for young people to have a voice and to create a sense of belonging. ABCD is a powerful approach to community engagement and development that focuses on abilities and potential, rather than problems and deficits by discovering the resources that are already present in a community.
By building relationships and creating the space for opportunities to emerge, community members become powerful and are more in control of their own decision making. The key principles will demonstrate how ABCD ensures an inclusive community process and participants will leave the workshop with practical tools to assist communities to help themselves and others discover and mobilise community strengths.
Drawing on the experience of both the participants and the facilitator, participants will leave our workshops with practical tools, skills and ideas on how to:
Focus on assets rather than deficiencies
Identify and mobilise community assets
Identify natural leaders
Discover skills of individuals
Build and maintain effective partnerships
Facilitate group processes
Upon completion, participants will receive:
Membership to Jeder's online Participatory Community Building Learning Space
Certificate of Participation.
This training is endorsed by ABCD Asia Pacific
Details of the training will be sent through the week before. Any issues, please email info@youthaction.org.au