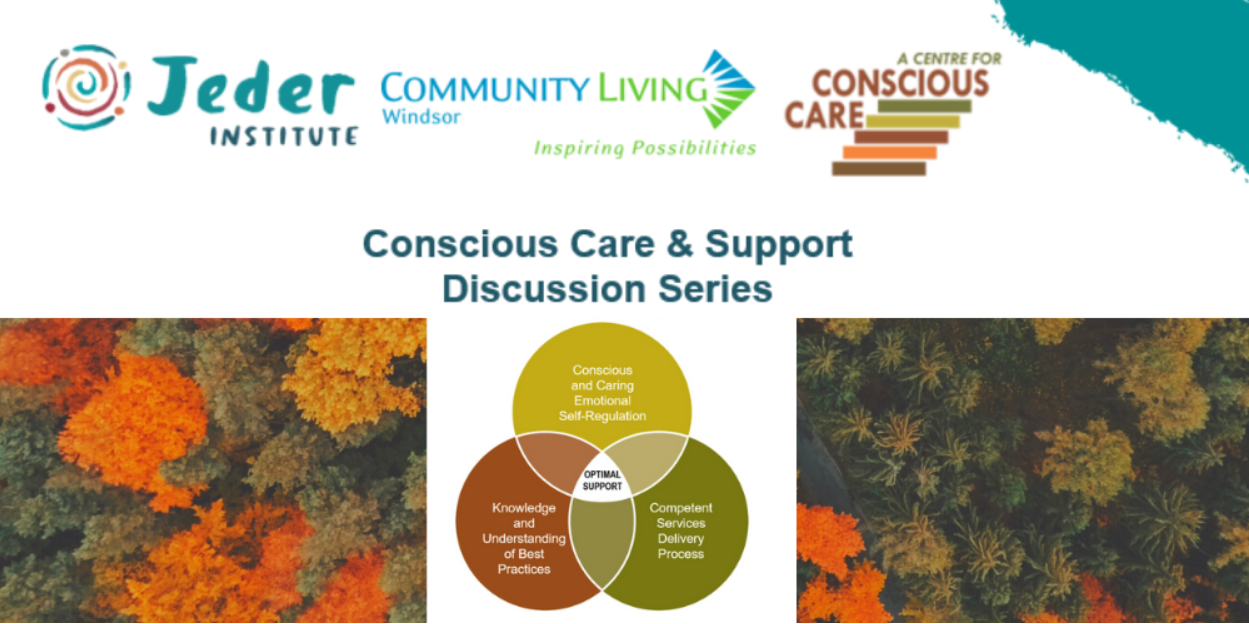 Conscious Care & Support Discussion Series 2021
Conscious Care & Support Discussion Series 2021
Conscious Care & Support Discussion Series
To optimally meet the holistic support needs of individuals with autism and other developmental disabilities, and / or a mood / mental health disorder, core competencies, traditional support practices, behavioural management strategies and accountability systems are essential, but are just not enough – equally essential is that supporters and leaders must have:
Mindful presence
Personal & professional emotional maturity, i.e., emotional self-regulation skills
An uncompromised commitment to wanting to help others
Authentic compassion for all others even when they don't feel like it
The most current evidence-based prevention and management interventions* necessary to compliment valuable however incomplete strategies
*CCS applies practical research from the disciplines of including but not limited to mindfulness, neuroplasticity, social neurobiology, emotional freedom therapy, nutrition, gastrointestinal health, and sensory regulation.
The first four sessions will unpack sections of the Conscious Care and Support best practices framework providing education along with practical examples and ideas for implementation.  The following four sessions will explore us more deeply as supporters by discussing the "human predicament", building emotional self-regulation through B-FIT mindfulness, and increasing our capacity to bring optimal, skilled, and compassionate support to those we support.
Session 1 – October 19- Awareness Based Calming and De-escalation Skills offered by a Mindful Supporter
What is Anxiety? – Traditional and Additional Approaches to De-Escalation – Building Mindful Emotional Self-Regulation
Session 2 – October 26- Gastrointestinal (GI) and Bowel Health
GI, Bowel & Digestive Health is the Foundation for a Healthy Mind – Allergens, Intolerances, Infections
Session 3 – November 2- Emotional and Mental Health
Effects of Trauma – Psychotropics and Mood Stabilizers – Our Roles as an Advocate – Gut/Brain Connection
Session 4 – November 9- Brain Development and Coherence – Sensory Integration and Processing
Neurogenesis, Neuroplasticity and Neurochemical Production – Brain Coherence – Gut / Brain Connection and Inflammation – Hyper and Hypo Active Sense Stores
Session 5 – November 16- The "Human Predicament" Part One  
Exploring "the human predicament" in which we all live driving us to our less-than-optimal selves when providing support
Session 6 – November 23- The "Human Predicament" Part Two
Continuing the discussion from Part One – Exploring our "Filters" (both faulty and fruitful), our beliefs, and biases
Session 7 – November 30- Increasing Self-Awareness to Self-Expression through B-FIT Mindfulness
Building the skill set of emotional self-regulation through mindfulness – Exploring "4 tools" to enable optimal support
Session 8 – December 7- "5-C's" of Support: Catch, Calm, Clarify, Choose, Connect
Bringing it all together – The supporter's framework to offer optimal support – What now?