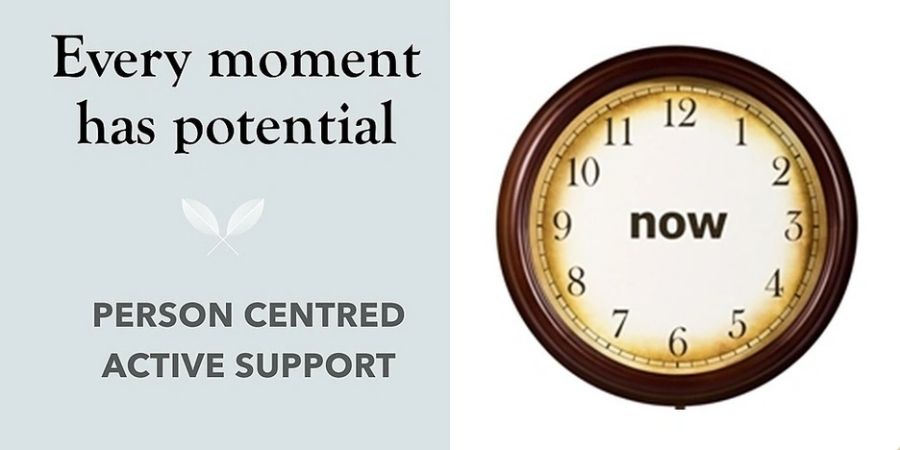 Person Centred Active Support
What is Person Centred Active Support?
How can we improve the quality of the support we provide to participants? How can we ensure we are making a difference, and not just caretaking?
Join us for a practical and interactive session that will introduce you to Person Centred Active Support (PCAS) and how you can keep participants at the heart of providing disability support.
"I learnt to put the people I support at the centre of care to enable them to fully participate in their everyday living choices"
This PCAS training was formulated in Australia using local and international evidence that shows what works in enhancing disability support. You will build on your skills with new ways to frame the support you provide around the person.
"[I learnt] new ways to perform tasks with clients that enable them to play on active part throughout the whole experiences"
The focus of PCAS is on creating the opportunities to do activities/tasks with the person instead of doing the activities/tasks for them. PCAS enhances other models such as Positive Behaviour Support by integrating the PCAS four essentials in everyday practices.
This training is tried and tested, and has been shown to enhance quality of care and life participation for the people we support.
"[after the training] staff are involving the clients more and encouraging them to participate in what is happening"
 By attending this workshop, you will be able to integrate and maximise:
Your ability to apply the four essentials of PCAS into the everyday support you provide.
Your skill in providing opportunities for engagement and participation.
Your capacity to enhance choice and control.
Your power to create opportunities for responsibility and autonomy.
Your ability to provide more support 'with' instead of providing more support 'for'.
Your Facilitator:
Francisco de Paula is passionate about supporting all to reach their potential. He is certified PCAS facilitator since 2016 (through Greystanes Disability Services, NSW).
Francisco has been working in the disability sector for over 20 years. Starting as a support worker in accommodation, day program, recreation program and employment settings. Since 2011, he has been working as Behaviour Support Practitioner and an Education and Training facilitator (in both TAFE and private courses). Person-centred practice, PBS, neuroscience and trauma-informed practice strongly influence his practice and training.
We aim to make our sessions financially available to everyone, so please contact us if money is a barrier. Custom sessions can be tailored for groups, please contact: francisco@jeder.com.au.