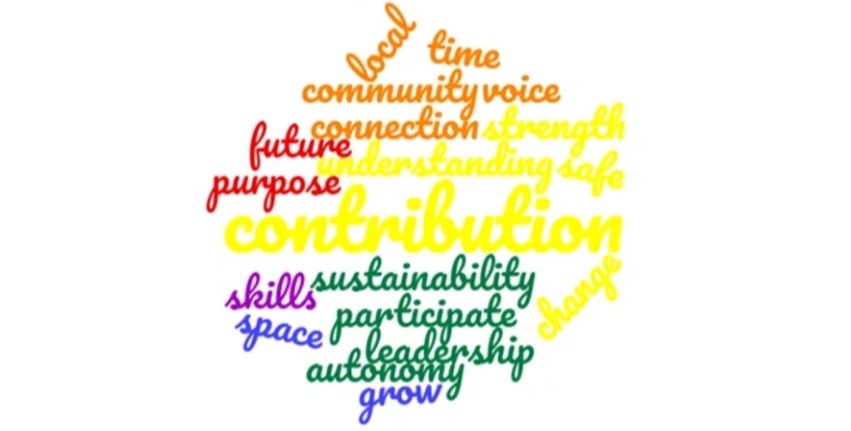 3 day Online Participatory Community Building Workshop
Event description
Our 3 day Participatory Community Building training is underpinned by asset based community-led development (ABCD) and participatory leadership practices, patterns and processes. These approaches have been used effectively in community, business, government and non-government contexts worldwide to enable the inclusion and connection of diverse perspectives for deeper outcomes.
This is an opportunity to learn and share in new ways of working to co-create action in our communities.
Over 3 days interactive and participatory, you will learn a wide range of helpful and innovative practices and processes, as well as ways to implement them in a participatory and positive manner.
DATES:
July 27th, August 3rd and 10th from 9.30am each day

Training Investment:
$200.00 per person – Youth (16 to 25 years)
$350.00 per person – Community members / Volunteers
$600.00 per person –  Not for profit
$1,000.00 per person – Corporate and Government organisations
The above investment is Ex GST
If this is still beyond your capacity, talk to us! Send us an email and let's have a conversation!
What will we explore, learn & practise?
THE WHAT:  Participants will learn how to blend Asset Based Community Development (ABCD) with other practices and processes, applying a range of tools & skills to:
Focus on assets and strengths rather than deficiencies
Discover ways to blend methodologies
Apply strengths-based monitoring and evaluation
Build effective partnership strategies
Increase confidence in hosting group work
Form powerful enquiries and proposals
Explore group dynamics and decision making
THE WHY:  Many of the challenges faced by individuals and communities require transformational change, achieved by focusing on the gifts and strengths within. Methodologies, which respond to this way of working, may include:
Community-led Initiatives
Asset-based or Place-based projects
Collective Impact & Action work
Collaboration & Community Conversations
THE HOW:  Participants learn how to weave, embed and sustain ABCD and other strength based participatory practices through co-design and collaboration. We will show you how to move from dialogue to action and how to discover ways to address complex challenges via innovative solutions, including the application of:
Asset-Based Community Development (ABCD)
Results Based Accountability (RBA)
Art of Hosting & Harvesting (AoH)
Circle Methodology
World Café
Open Space Technology
Appreciative Inquiry & SOAR
Graphic Facilitation & Harvesting
DEC Thinking & Breath Patterns
Who is it for?
Anyone & everyone who wants to explore the power of collective creativity & collaboration with each other & within their communities
Business leaders, social entrepreneurs, community & not for profit leaders, community organisers and their teams
Next generation leaders and young activists
Department leaders, policy officers & program managers.
Your Facilitators:
Through her down-to-earth style, Dee Brooks brings people together in dynamic ways to realise and engage the full potential of their networks and communities. Over 20 years, her work has inspired people at hundreds of events and workshops worldwide where she offers community engagement and development training and also provides professional co-design, facilitation and keynote addresses for conferences, forums and events.
Michelle Dunscombe lives on Taungurung Country in regional Victoria. She is an enthusiastic community development practitioner, facilitator and trainer who love's working with emergence. She is skilled and passionate about strengthening regional, rural and remote communities, developing community leadership capacity, building community resilience and supporting community members to take action.
Fiona Miller is a creative conduit and  passionate about seeing people and communities explore and collaborate on all things local, getting people to the same table and sharing skills and knowledge. The ABCD principles and practices underpin all of her work and continue to be educated while educating.  Conversations matter and by connecting conversations, amazing things can happen.
Beth Stockton is passionate about social justice, community led change and enabling collaborations from talk to action. As a specialist in impact measurement, she works with organisations and community initiatives to measure and use data to embed a culture of curiosity, learning and improvement across their work. To ensure outstanding results for communities, Beth dedicates energy and time to understand the communities she supports.