Building Community Capacity – Participatory Community Building Guidebook
Contributors: Purpose Partners (Queensland), Denise Bijoux from Catalyse (New Zealand), Jax Wechsler from Sticky Design Studio and Social Design Sydney.
Conscious Co-Design
The content in this Guidebook is to offer a place for conscious decision making to be practically applied when choosing or using particular community engagement and development frameworks and their practices, processes and patterns. It is loosely based on the work of Giorgio Agamben, who says,
"I will call an apparatus, literally anything that has in some way the capacity to capture, orient, determine, intercept, model, control, or secure the gestures, behaviors, opinions, or discourses of living beings."
GiorgioAgamben, "What is an Apparatus?" and other essays. 2009.
The following is an excerpt, based on a blog about Conscious Co-Design. The full blog can be found here: http://jeder.com.au/conscious-co-design.
Locating yourself within a number of given community engagement and development frameworks can be exciting, stress relieving and can open up new possibilities.
Patterns in frameworks are as natural, and needed, as breathing; you just don't know what you don't know!
Intentionally working with patterns can support the steps needed to shift the view of dominant, or quiet, voices. Patterns can actively respond to anger and frustration and can also bring joy, abundance and can strengthen a sense of belonging and connectedness.
What we at the Jeder Institute have found through decades of grassroots practice and by sharing our lessons of application through training delivery and conference co-design is:
Patterns such as DEC Thinking (the Breath Pattern) or Theory U, both found in the Art of Hosting practices, offer the organic nature of a pattern to explore
Methodologies like Narrative Therapy and Appreciative Inquiry offer the evidence-based dialogical framework to support purposeful divergence
Movements like ABCD, Placemaking, Timebanking or Collective Impact provide the vehicle for engagement and development for convergence.
A discerning practitioner understands that pattern locating offers HOPE (Helping Other Possibilities Emerge) and by holding the space to make the pattern visible, as an emergent discovery, we offer a deeper dive into the simple complexity of community life!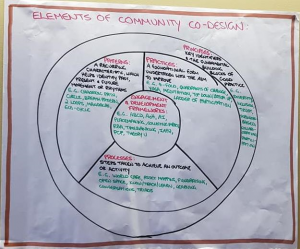 Purpose: What does it look like in practice?
Purpose and intent is central to this framework. What are you aiming to achieve? Who wants this? Who cares? Focusing attention on the community-led aspect of this work is paramount here. There are a multitude of ways to discover this, as is set out throughout the rest of this guidebook.
Once the purpose is identified, you can start looking at the relevant and appropriate engagement and development frameworks and discerning the next steps or approach, based on that choice.
It's very important here that you enter with a curious mind and stay open to the possibilities of blending practices and processes. This takes time and is a practice within itself.
Potential Engagement and Development Framework
These may be some, but certainly not all, the frameworks you might explore
Asset-Based Community-Led Development (ABCD)
Results Based Accountability (RBA)
Art of Hosting & Harvesting
Appreciative Inquiry
Collective Impact
Next Stage Organising
Place Making
Time Banking
IAP2 (Spectrum)
Participatory Action Research
Person Centred Thinking
Pattern: a recurring characteristic, which helps identify past, present and future movement or rhythm, e.g. chaos and order, new system and old system.
Once you have settled on a framework, what underlying pattern might support your next wise steps?
Is there a broader picture or systems view of the issue, challenge or project to explore?
Circle Work
Chaordic Path
Two Loops
Complexity
DEC Thinking
Theory U (?)
Appreciative Inquiry (3 stages)
Living Systems
Practice: a foundational form undertaken with the aim to improve, e.g. a repeated daily practice, conscious reframing, shifting perspective
What practices will best serve your purpose? Are there daily or regular patterns that will keep you on track or support your movement through the patterns?
Circle Practice
Glass half empty/full
Strengths versus Needs
4-Fold
Appreciative Inquiry (5D's)
Check in/out
90/10 Principal Principle
Process: steps taken to achieve an outcome or activity, e.g. intentional movement, generative space
What are the most relevant and appropriate processes that will shift your work, community, organisation or system into generative action?
6 Assets & Asset Mapping (5 levels)
Bumping Spaces
World Café
Open Space
SOAR (don't SWOT)
Top 100
Learning Conversations
Designing for Wiser Action
Principles: Key identifiers and the fundamental building blocks of good practice
Principles encompass the framework. What are your values and the values of organisation, family, community? What drives your choices, passion and ways forward?
Diversity
Inclusion
Trust
Strengths-based
Collaboration
Participation
Where do we start?
Our good friend, Mike Green, from ABCD for Inclusion in Denver, USA says, "ABCD is just one language of a larger movement" so, even though this Guidebook is underpinned by ABCD as Jeder's choice of framework. The Conscious Co-Design principles and practices still apply in our everyday grassroots work.
ABCD is an empowering and flexible way of discovering the strengths and assets of a community and Participatory Leadership offers a range of practices and processes to help communities achieve an inclusive and participatory way forward.
There is no correct way of doing this; each community is unique and will be guided by the individual capacities, community strengths and organisational resources and networks that are present.
Some strategies to start with might be:
Build, nurture, maintain relationships – it can take time to build trust
Identify community leaders – they have existing, strong networks
Whenever possible, practice the art of reframing – shift the language from needs to strengths
Host conversations – 5 H's/ Learning Conversations / Story Telling and Gathering / World Café / Open Space or any other participatory method.
Following are some Appreciative Inquiry style questions that could guide forward action:
Setting the scene:
What's our intention here? What's the bigger purpose?
What opportunities can you see (in the specific situation)?
What do we know so far and still need to learn about?
What are the opportunities (in the specific situation)?
What are the assumptions we need to challenge (about the specific situation)?
Connecting and building:
What's taking shape? What can you hear trying to emerge from the discussions?
What's emerging? What connections are you making?
What do we need more clarity about?
What's been your major learning/insight/discovery so far?
If there was one thing that hasn't been said yet, what might it be?
Forward action:
What would it take to create change?
What's possible now and who cares?
What needs immediate attention to move forward?
If success was guaranteed, what bold steps might we take now?
How can we support each other? What skills and abilities can we offer?
What actions could ripple out, from today, and create new possibilities?
What seed could we plant today that could make the most difference?
""All change is linguistic"
Dr Amanda Howard
Asset Based Community-led Development & Other Community Building Practices
What is Asset Based Community Development?
Asset Based Community Development (ABCD) is a globally adopted approach that recognises and builds on the strengths, gifts, talents and resources of individuals and communities to create strong, inclusive and sustainable communities.
John McKnight and Jody Kretzmann founded the ABCD Institute, based on their community work in the preceding decades. Challenging the traditional approach to solving urban problems, which focuses service providers and funding agencies on the needs and deficiencies of neighbourhoods, Kretzmann and McKnight have demonstrated that community assets are key building blocks in sustainable urban and rural community revitalization efforts.
The guidebook, "Building communities from the inside out" summarizes lessons learned by studying successful community-building initiatives in hundreds of neighbourhoods across the United States. It outlines in simple, "neighbourhood-friendly" terms what local communities can do to start their own journeys down the path of asset-based development.
ABCD is a powerful approach to community engagement and development that focuses on abilities and potential, rather than problems and deficits by discovering the resources that are already present in a community. Discovering community strengths is a powerful and productive way to address problems and realise a collective vision.
ABCD is at the centre of a large and growing global movement that considers local assets as the primary building blocks of sustainable community development.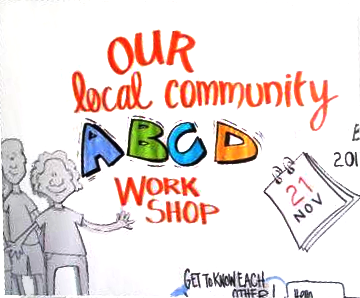 ABCD provides key principles and practical tools to assist communities to help themselves and others discover and mobilise community strengths.
By building relationships and creating the space for opportunities to emerge, community members become powerful and are more in control of their own decision making. The key principles will demonstrate how ABCD ensures an inclusive community process and participants will leave the workshop with practical tools to assist communities to help themselves and others discover and mobilise community strengths.
"Every single person has capacities, abilities and gifts. Living a good life depends on whether those capacities can be used, abilities expressed and gifts given"
John McKnight
The Glass Half Full
Using an Asset Based approach our focus is on the glass half full concept of exploring what communities have to get want they long for.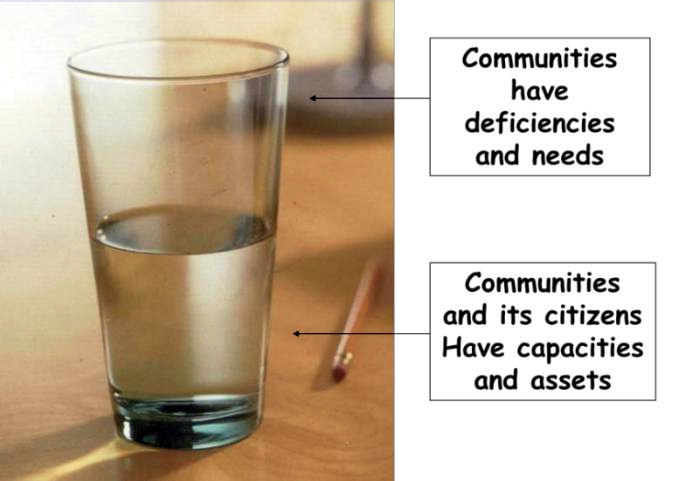 We acknowledge that communities and its members have existing capacities and assets, and this is where we focus our energy be in relation to ABCD. Rather than dwelling on the deficiencies and needs.
Conditions for Successful Community Building
The conditions for successful community building from Terri Bailey, Audrey Jordan and Leila Feister and build on work by Otto Scharmer (Theory U) to consider and reveal the "essential conditions" needed for successful community change initiatives, because community change doesn't exist in a vacuum.
Among the most essential conditions are:
Willingness to learn and imagine a better way of doing things.
Belief that the new way of doing things will work and the will to act on that conviction.
Knowledge of the community context and history, especially the nuances and impact of race, politics, social networks and other initiatives or programmes that have operated in the area.
Leadership capacity, along with continual efforts to develop and replenish the supply of community leaders. The process of becoming a leader prepares stakeholders to participate in a democratic process and provides a structure for shifting power to those who are most affected by community conditions or by the desired changes.
Relationships and a sense of teamwork. Social relationships encourage and provide neighbour-to-neighbour support, help people overcome the isolation of living and working alone, and overcome geographical, racial, class and power differences.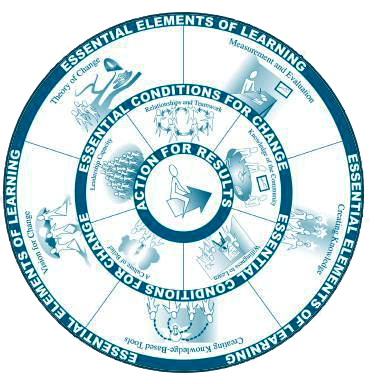 Asset Mapping
Asset Mapping Atlas
Over the years, we have adapted (from others) and developed (our own) practical and emergent ways of discovering assets, both active and latent, in community to support community-led mobilisation for change. This is based on 20 years of practical application of ABCD and a vast array of other blended methodologies (including their tools and strategies) and has resulted in a robust set of resources, strategies and tools to build the individual capacity of change makers in community.
The following example is from work undertaken in Jakarta, Indonesia, based on the topic of childcare reform and provides an update on our previous blog Connect! Don't Collect! : The Art of Community Mapping
The agenda/flow that was co-created by the Design Team was based on an Asset Mapping framework which spiralled inwards and has the ability to spiral back outwards, as required. Firstly, participants would be invited to create a visual map of the elements within the childcare system in Jakarta to highlight the enormity of the challenge. Following this, we would start to break down the system and look at what was "do-able". The participants would then map their partners/stakeholders to explore who was already in their known system and who was not.
Next would be to map the resources, networks, assets and strengths of the organisation they were representing, considering how these could strengthen what was already happening, or emerging, in community and in addition, they would map what was known and unknown in the community, relating to childcare.
The final mapping step, as participants moved inwards in the mapping framework spiral, was to map individual gifts, strengths and assets. This linked back to the previous October 2018 Learning Conversations and also highlighted that each person has skills, talents, abilities and passions to respond back outwards within the mapping framework spiral.
Here, we asked the question, "What skills, abilities, resources, networks and partners do you have to respond to the challenges of child care in Indonesia?" and in the final large scale mapping process, participants took all their responses from the first day and created action maps on the second day.
The 6 levels of mapping within this process were as follows and each level has a range of tools to suit the context, individuals and community vision:
Individual; skills and abilities
Community; resources and connections
Organisational; opportunities and resources
Partners / Stakeholders; know / don't know
Systems; elemental, agents, components
Ecological; land / humans / other creatures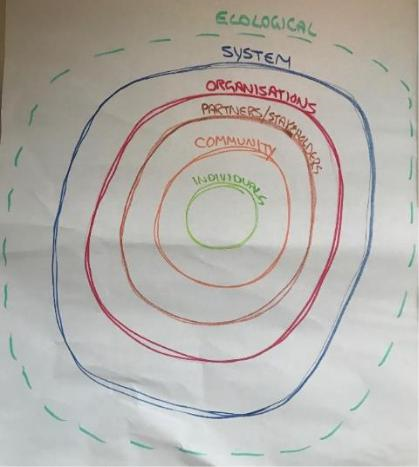 These levels of mapping link strongly to the 6 assets, as identified by ABCD:
Individual assets (e.g. the skills, talents, abilities and passions of community members)
Local community groups and networks (e.g. social services clubs, mums & bubs groups, sporting clubs etc)
Local government and non-government agencies (e.g. churches, schools, departments, neighbourhood centres etc)
Physical assets (natural and built environment)
Economic assets (productive work of individuals, consumer spending power, local businesses)
Cultural assets (local stories, heritage, identity, values)
In the case of the above-mentioned Indonesian work, this created seven (7) active and actionable maps for change. This provides a process for "leading by stepping back" that is easily replicable, teachable and shareable across communities, particularly due to inviting a local core team. In this way, the process becomes uniquely place-based, community-led and can be a great way to connect, share and have fun!
To discover more about the range of potentials tools and strategies within the levels of mapping, see our website for more information on Participatory Community Building workshops: http://jeder.com.au/art-of-participatory-community-building.
3 Steps to Asset Mapping
Asset mapping is a vehicle for community to identify, discover and connect with each other. It's not the only strategy to empower communities but it is more than a tool; it connects people through the sharing of stories and the identification of mutual strengths. We have found there are 3 key steps to asset mapping:
Discover the assets
Connect the assets together
Create opportunities to mobilise these assets to be productive and powerful together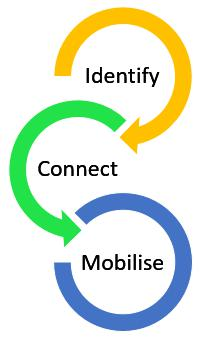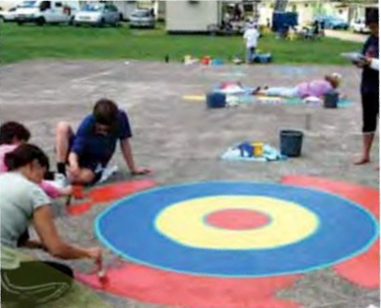 In conclusion, ABCD is committed to some guiding principles that can be covered in 4 questions, as follows:
What functions can community residents perform by themselves?
What functions can community residents do with some additional help from government and agencies?
What functions must government and agencies perform on their own?
What functions must government and agencies STOP doing?
What should we map?
Individual; skills and abilities
Community; resources and connections
Organisational; opportunities and resources
Stakeholders and partners
During a 2-day festival for a local government council in NSW where their aim was to start to break down the silos within their own walls. Over the 2 days, we had 4 sessions, each with a different focus, e.g. economic development and community engagement. We identified overlaps and looked at underpinning frameworks to support crossover; it was a dynamic festival!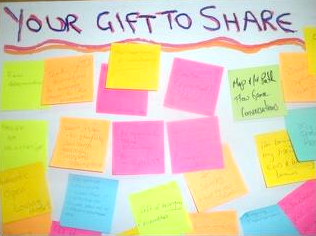 Most people understood the individual and community
mapping very easily but, there were light bulb moments when we looked at mapping the organisational assets of a local council and here's why; the question I pose after organisational asset identification is, "How can the assets you have identified strengthen what communities are already doing?"
For example, the list of organisational assets would look different to the individual and the community assets and they might look like this:
Personnel
Expertise
Economic Power
Constituents
Networks of Connections
Space and Facilities
Materials and Equipment
So, how can your organisation's networks of connections strengthen something that's already happening in community? Is there an introduction you can facilitate? How can your space and facilities be offered to community groups who weren't successful in gaining funding (or weren't after any)?
Do you have materials, equipment or expertise that you could offer which will strengthen what communities are already doing?
How can doing this strengthen you as an organisation?
What are community strengths and assets?
Taking the example above, we started with an Appreciative Inquiry style conversation, which looked at:
What has worked in the past? (exploring past successes)
What have we already got to build on? (what resources do we have)
How can we get more of the good stuff? (putting vision into action)
By asking what has worked in the past, community members had the opportunity to reflect on a time when their community was unique and strong and encouraged them to share stories with each other. The story sharing was positive and transformational and provided a solid foundation on which to start exploring what they already had to build on.
The community then identified the resources and assets they had to build on by developing their own, unique asset map utilising the following 6 assets: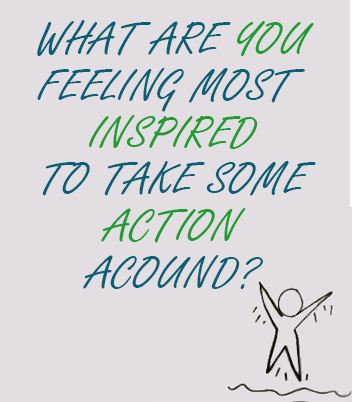 Individual assets (e.g. the skills, talents, abilities and passions of community members)
Local community groups and networks (e.g. social services clubs, mums & bubs groups, sporting clubs etc)
Local government and non-government agencies (e.g. churches, schools, departments, neighbourhood centres etc)
Physical assets (natural and built environment)
Economic assets (productive work of individuals, consumer spending power, local businesses)
Cultural assets (local stories, heritage, identity, values)
Community members started to get very excited and realise the potential they had to support the co-production of their own well-being and there were subsequently many community-driven and community-led activities and actions that arose from the discovery of their strengths and assets.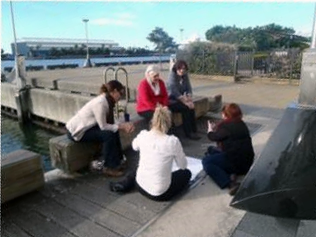 Asset Mapping Story
The following is an actual conversation with the Manager of a medium sized organisation in 2008 after an Asset-based Community-driven (ABCD) keynote presentation at a national conference in Brisbane:
So, what is Asset Mapping?
Within any neighbourhood or community there is an often hidden treasure trove of resources, skills and abilities. Asset mapping supports community
members to discover these hidden treasures and to link into them as the foundational building blocks of getting good stuff done!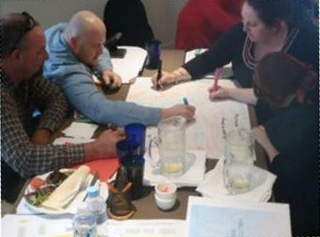 Creating a Community Asset Map
If we co-create a Community Asset Map, starting with the individual in the centre and explore their gifts – what skills do they have? what is their passion? who are they connected with?
From this rich vantage point, we can explore the assets of the community groups and networks they are connected to, find opportunities for new partnerships and/or collaborations and continue to follow the threads through community to include local institutions, natural assets and diverse culture.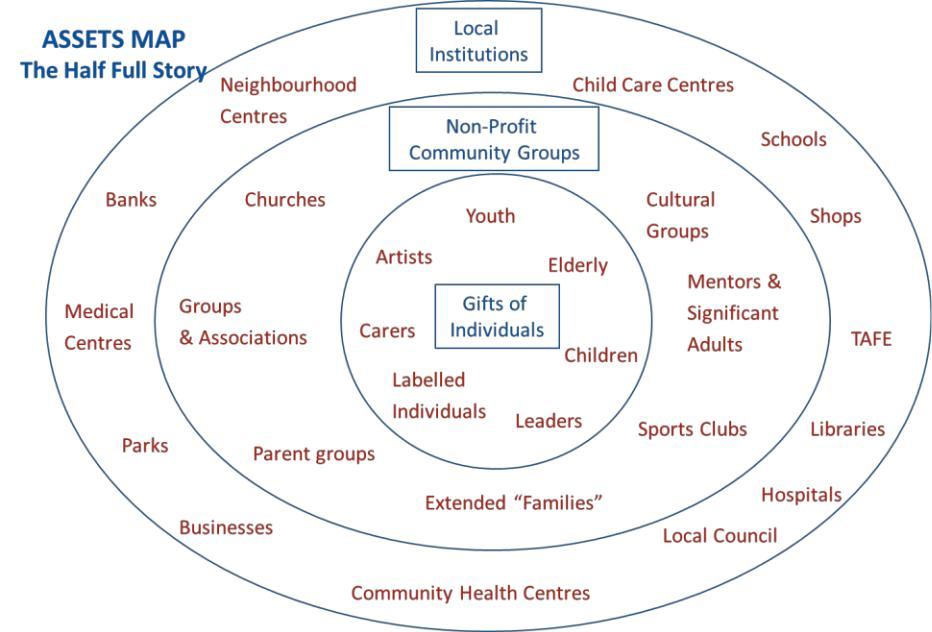 Six Types of Assets to Connect:
Talents, skills and passions of individuals
Community groups and networks (Associations)
Government and non-government agencies (Institutions)
Physical assets (land, property, buildings, equipment)
Economic Assets (productive work of individuals, consumer spending power, local business assets)
Stories, heritage, local identity and values
Individual Asset Mapping – 5 H's Exercise
Gifts I can give my community: A simple guide to discovering people's gifts!
The gifts of the head, hand and heart exercise can be adapted in many ways. Below are some ways that people have used the exercise although, feel free to be as creative as you like in using the exercise to generate conversations between individuals, with groups or the larger community.
Overview of the gifts:
Gifts of the Head (Things I know something about and would enjoy talking about with others, e.g., art, history, movies, birds).
Gifts of the Hand (Things or skills I know how to do and would like to share with others, e.g., carpentry, sports, cooking).
Gifts of the Heart (Things I care deeply about, e.g., protection of the environment, civic life, children).
Gifts of the Heel (Things I do to help me stay grounded and would like to share with others, e.g., meditate, walk, breathing exercises, hang out with friends)
Gifts of Human Connection (Things I do to stay connected to my community, e.g., join an interest group, connect people e.g. introduce someone I know to someone else with a similar interest)
After introducing the gifts, you could offer the following conversational approaches as a group exercise.
Make sure you let people know how long they will have each (3, 5 or 10 minutes?):
In pairs, share with each other what your gifts of the head, hand and heart are. You won't have to feedback what you discovered; this is just for you and your partner.
Note: you can unpack this exercise after everyone has had a turn by asking questions like, "How was that sharing conversation, for you?", "Did anyone find any of them difficult (or easy)?", "Can anyone see how this might be a useful soft entry conversation with new people in a team/group/community?"
In pairs, share your gifts with each other. As the listener, take some simple notes so you can introduce your partner to the larger group after the exercise. As the sharer, be careful to only share what you are comfortable with as your partner will be introducing you.
BE CREATIVE! LISTEN! LEARN! HAVE FUN!
Connecting Individual Assets – Know, Teach, Learn
Discovering Connections through Passion
Once people have discovered the gifts they have to offer their community (which could be through the 5H's exercise), we discover a dynamic list of offerings laid out on flip chart paper or on a white-board so, how do we create the opportunity for these gifts to be activated?
The following Know/Teach/Learn tool offers a simple and powerful framework for discovering how these gifts can be productive and powerful together and it's as easy as ABCD:
Ask people to decide which of their gifts they are passionate enough about to share with others.
Ask the whole group to come forward and create a "master list" of the gifts they are willing to share on the side of some flip chart paper.
Write up the words 'know', 'teach' and 'learn' across the top of the flip chart paper, creating 3 columns and underline the gifts to create a grid.
Ask each person to write their name in the box, on the grid, according to; what they know about, what they could teach and what they want to learn.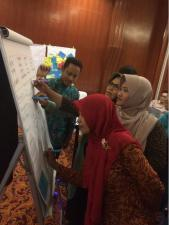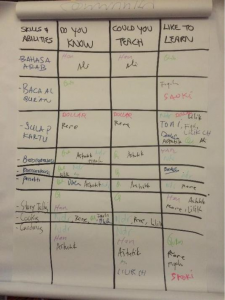 Stakeholder Mapping (Top 100 Partners)
(Originally based on an exercise from the Tamarack Institute)
What's your intention: increased public participation, community inclusive planning or mapping stakeholders &/or partners?
Jeder Institute has adapted the Top 100 Partners process for stakeholder mapping to respond to various contexts and to help ensure there is diversity at the table. The process can be repeated as the core group grows to support an even more diversity amongst the participants, whether it be for an event, a conversation around a wicked question or a community forum, the options are endless.
Steps:
Ask all core group members to list everyone they know in the following sectors:
Business
Government & non-government
Voluntary
Lived Experience
Each core group member identifies the top 3 people listed who they have a personal relationship with.
Craft the Ask – how to invite the listed people to a planning session.
Once in planning, repeat the Top 100 Partners exercise with the planning group.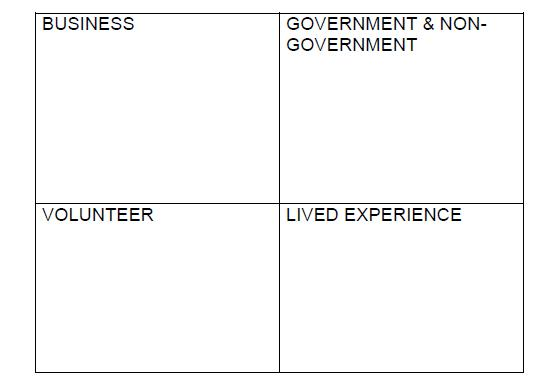 Principal Principle
(Mobilising Latent Assets)
The Principle Principal came from a story of working with teachers with a community development focus within a public school.
This principle responds to when you might find yourself working within a top down environment where you might be getting told "no, you can't do that" or your work is being ignored but allowed to continue.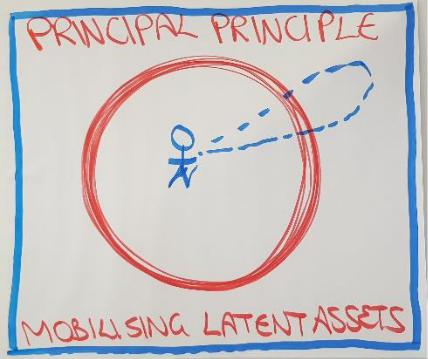 The bottom-up principle suggests that you continue to mobilise the latent assets, where possible, that are surrounding your top-down "Principal", structure or system and to "lead by stepping back". Lift the voices, skills and abilities of others and let the collective actions speak louder than words.
One of 2 things usually happen – the Principal finally sees the good work happening and the benefits to the school and either, 1. joins in or 2. gets out of the way
If you have the permission to be in the system, don't let a top down approach stop you from mobilising those rich, potential filled assets that are in every community!
Three Key Steps to Asset Mapping:
identify the assets
connect the assets
create the space for these assets to be productive and powerful together
What to Map:
System mapping
Stakeholder / Partner mapping
Organisational mapping
Community mapping
Individual mapping
For more information on Asset Mapping, follow this link: http://jeder.com.au/the-art-of-community-mapping
Harmonising the Four Things Worth Doing, based on the book: Now the two in One by Judith Snow and Jack Pearpoint.
This is a 5-step solution focused mapping tool. Go through the five steps on a Dream, goal or issue you currently have. Use the template below or draw up on a poster.
Dream: All activity must be based in a vision of what the person is inspired to accomplish. Places: Everything in life takes place somewhere. Attention to the selection of places for a dream to be explored is essential.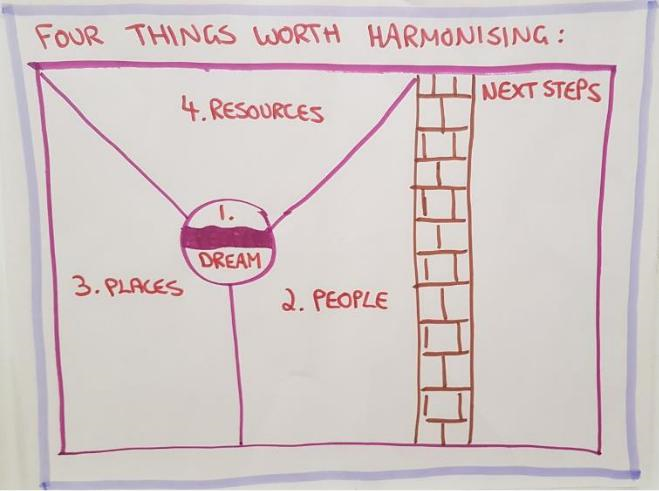 People: the "right place" will bring knowledge, insight and resources to a dream that other people have no awareness or facility with.
The resources: that are actually required to move a dream toward fulfilment are often very different from the resources we imagine will be needed when we first start.
Next Steps: When the necessary resources are not present, or the person is denied access to them, the question of how to obtain these resources becomes the "Dream", and the cycle of alignment is repeated to reveal new "Next Steps".
Bumping Places
Based on the work of Jim Diers who says, "Community is built on relationships and people develop relationships through frequent contact with others. So, if you want to build community, you need places to bump into other people. The closer those places are to where you live, the more likely you are to bump into the same people over and over again."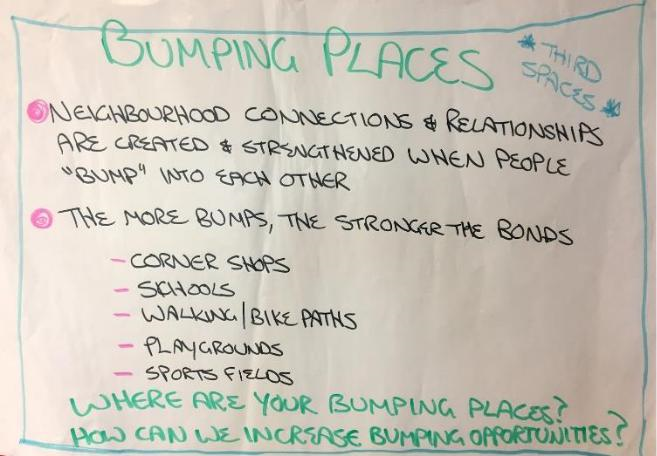 In academic literature, bumping places are also called third spaces. These places and spaces can be mapped in the community and they can also be created to encourage more bumps!
Read more about bumping places from Jim's blog, You Can't Build Community Without Doing the Bump.
Community Leadership
The ABCD approach to Community Leadership – Inspired by Mike Green and Henry Moore
ABCD has a particular approach to "leadership" in community. It has been said that ABCD practitioners see through "rose coloured glasses" because it is believed we ignore the core issues and challenges. We emphatically disagree; ABCD looks at the assets and strengths we have to address those issues and challenges.
What Mike and Henry talk about in regards to "Connector Leaders" is about finding those people in community who:
Are already connected
Have local knowledge
Share local stories
Hanna Nel, one of ABCD's most passionate friends, colleagues and university professor at Johannesburg University in South Africa writes,
"A comparison study was undertaken between the asset-based community-led development (ABCD) approaches versus the traditional needs-based approach to community development relating to community leadership. A purposive sampling technique was used to select 24 community projects in South Africa for the study, of which 14 were sensitised to ABCD and 10 were not. The kind of community leadership developed in ABCD communities enabled communities to lead their own development by co-investing their own assets, and leveraging their assets with resources from external agencies. In comparison, although development took place, the leadership that emerged in the needs-oriented projects was more authoritarian in nature, and in some instances, seemed to establish a dependency on external agencies. Community leadership that contributes to projects that were more driven by community members complements the principles of appreciative leadership, which were more evident in ABCD-sensitised communities."
Hanna's work, and the work of other ABCD practitioners and community members, supports connected leaders to share the power of community-driven work.
When we discover what people truly care about, enough to act on, we discover their motivation to act! Through Learning Conversations you can hear:
Concerns – What I don't want to happen
Dreams – What I want to create
Skills & Abilities – What I have to give
In summary, Connector Leaders:
Are key to mobilising communities
Have existing, strong relationships
Bring community members together to act on what they care about
Are not always who you would suspect
As Mike says, "Don't go anywhere that nobody sent you! Well connected leaders can engage the wider community to act on what they care about!"
5 Wais
The point of Atawhai Tibble's framework is to provide questions and themes to think about when engaging with Indigenous people (specifically Māori, in this case) and offers potential application in an Australian context:
Nā Wai: What is the purpose of the meeting, who set up the hui and why?
Ko Wai: Who are these people that you want to work with, and what is their background and board structure?
Mō Wai: What is the benefit of your meeting with Māori, as in what will they get out of this relationship?
Me Wai: Who is your navigator? Who is the person that will help both parties connect which might be a Māori  elder or Kaumatua? It could also be a staff member from the law firm that knows someone within the local iwi.
He Wai: How can you authentically connect culturally? Do you know your marae 101 such as a mihi (greeting), hongi (nose press greeting), or waiata (Māori song)?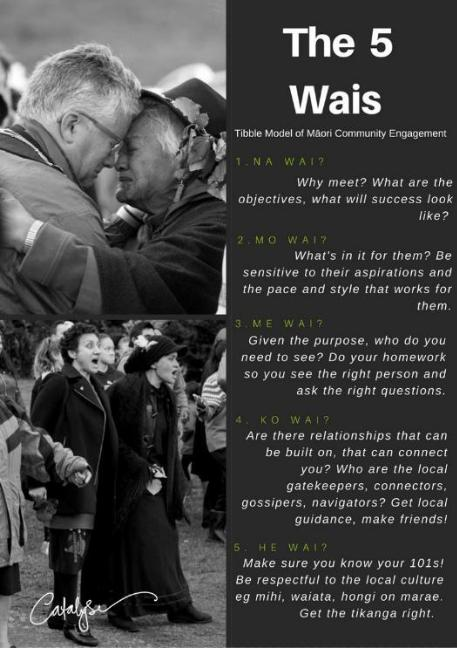 People versus Programs
When we start with an answer, we then need to recruit people to implement that answer. The people we find may not be invested or have a motivation to act so we then need to find another solution to boost their lack of motivation. Sounds like a hard job!
But, when we start with a learning conversation, we discover what people truly care about, right from the start and discover what they have or want to offer as part of the productive solution. Once we have discovered this, we can mobilise the assets of individuals, families and communities.
So, there's 2 paths that have 2 solutions. If we start with answer, we are identifying a 'need', services are then allocated and people are consumers of these services. This path says that programs are the answer.
But, if we start with a question and we discover what people care enough to act on, we can get some action happening and people are community members. This path says that people are the answer.
Now, we are not saying that programs are all wrong. If I broke my arm and needed rehabilitation, I would, no doubt, work through a program with a trained professional. But, when we are looking for solutions to concerns such as community inclusion, it's everybody's business and yet, we don't need everybody, only those who care.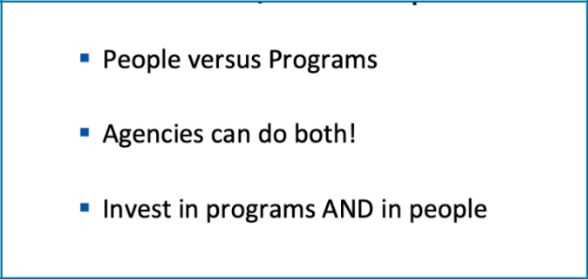 The 90/10 Principle, which extends the people versus program model of shifting programs incrementally towards a tipping point, also informs us how to work with "latent assets" There is a way we can have both people and programs and balance the relationship system between service and community member.
Let's say, as a service, we start a program and we are delivering 90% of the service with community members participating – this puts them at 10% and they are consumers of the service.
By supporting participants to identify their skills and share what they have to offer the program, we start to shift the balance to 80/20. With further support and involvement, community members have more buy-in and they might start running part of the program or having meaningful contribution to the process and format – then it starts to shift to 70/30 and so on…
This is how we can start shifting programs from service based delivery to strengths based, community driven projects.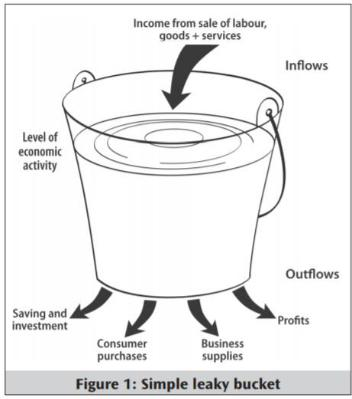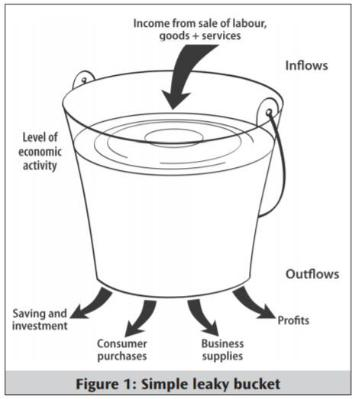 Our great friends at Coady Institute based at St. Francis Xavier University in Antigonish, Canada, provide education programs designed to deepen the understanding and effectiveness of Asset Based and Citizen Led Development. Explore what they offer here https://coady.stfx.ca/themes/abcd
The Leaky Bucket framework comes from Gord Cunningham at Coady Institute – In the simple leaky bucket shown in Figure 1, the arrow at the top represents money coming into the community from outside. This money usually includes income from sales of goods and services or transfers from governments or family members.
The arrows from the holes in the bottom of the bucket represent money leaving the community, typically in the form of expenditures on goods and services purchased outside. The level of water represents the level of economic activity: the fuller the bucket, the more money is circulating in the community and the healthier its economy.
By identifying the main inflows and outflows, the leaky bucket can inform decisions to:
produce and sell new goods or services;
expand existing activities, either by producing more or by adding value to goods or services that community members are already producing; and
change expenditure patterns by redirecting expenditures (for example, on alcohol or tobacco) or investing underutilized savings into more productive activities.
The tool also allows community members to track changes in their local economy over time, especially when these changes are related to planned, community-driven activities. For example, it can show whether the local economy has diversified or whether particular economic activities have intensified. Perhaps the most important aspect of the leaky bucket is its ability to demystify basic economic principles in a way that is fun and engaging for people who might otherwise categorize themselves as "economically illiterate."
For more information visit https://ccednet-rcdec.ca/sites/ccednet-rcdec.ca/files/ccednet/pdfs/the_digital_leaky_bucket_0.pdf
Quadrants of Change
The Quadrants of Change, developed by Ken Wilber and adapted by John Paul Lederach, change (and peace) in communities can be understood as having four dimensions: Personal, Relational, Structural and Cultural. Over time all of these dimensions must shift for change to be lasting. It makes sense, then, for change strategies to consider how each dimension might need to shift in order for change to occur, as well as how the dimensions might interconnect and influence one another throughout a change process.
One way to apply the Quadrants is to recognise that not all individual changemakers have agency or positional power to be influential in all of the quadrants so it also makes sense to develop a team approach to changemaking. Some people may be more able than others to make changes to structures, for example (policies, legislation, accountability frameworks, institutional procedures). At the same time, the model recognizes that changemaking requires deep personal work (self awareness, considering values, beliefs and assumptions as well as knowledge, skills, competencies and mindsets) as well as conscious approaches to relating and interacting (trust, respect, understanding, conciliation) and everyone has at least some agency over these. Cultural change (the implicit 'rules': assumptions, expectations, practices and perceptions linked to common activities, discourse and language) is most often collective. Cultural change can be understood or experienced as a result of the integration of the other three dimensions and, in turn, influences those as well.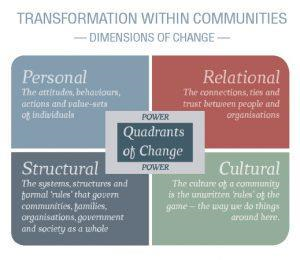 Diagram adapted from "Reflective Peacebuilding: A Planning, Monitoring, and Learning Toolkit" by J.P. Lederach, R. Neufeldt and H. Culbertson (2007)
While one-off or smaller incremental or circumstantial changes may build on and layer together over time to create the conditions for substantial change within communities, it is important to note, that in isolation these one-off changes do not create stronger, more resilient communities in and of themselves.
Appreciative Inquiry
Appreciative Inquiry is a strategy for intentional change that identifies the best of 'what is' to pursue dreams and possibilities of 'what could be'; a cooperative search for strengths, passions and life-giving forces that are found within every system and that hold potential for inspired, positive change. (Cooperrider & Srivastva, 1987).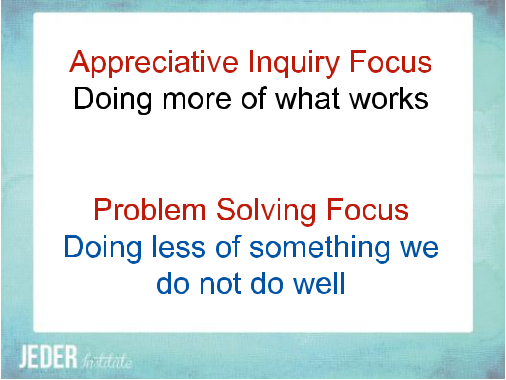 Assumptions
In every community something works
What we focus on becomes our reality
Reality is created in the moment—there is more than one reality
The act of asking questions influences the community in some way
People have more confidence and comfort to journey into the future when they carry forward parts of the past
If we carry forward parts of the past, they should be what is best
It is important to value differences
The language we use creates our reality
What is Appreciative Inquiry good for?
Appreciative Inquiry is useful when a different perspective is needed, or when we wish to begin a new process from a fresh, positive vantage point.
It can help move a group that is stuck in "what is" to appreciate "what was" and move toward "what could be". Appreciative Inquiry can be used with individuals, partners, small groups, or large organisations.